Overview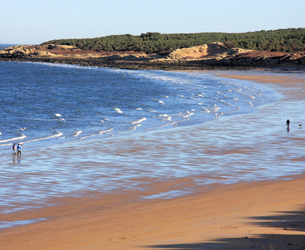 At a meeting of East Lothian Council in December 2012, a commitment was made to the introduction of parking charges at some coastal car parks. The process for introducing charging falls under a Traffic Regulation Order (TRO) and this requires certain procedures to be followed, including the carrying out of consultation.
Coastal car park charges will help to fund improvements to car parks:
"Our coastal tourism strategy is based on our outstanding natural environment providing a quality tourism experience and that includes investing in facilities that meet visitor expectations.

The revenue from the parking charges will be ploughed back into the maintenance and upkeep of coastal facilities including car parks as the key to providing this visitor experience. However, without investment the sitese will inevitably decline and hurt coastal tourism." (Councillor Norman Hampshire, East Lothian Council Environment Spokesman)
It is proposed that charges be introduced at the three car parks at Longniddry Bents, Gullane Bents, Yellowcraig, Whitesands, Barnsness and the three car parks at John Muir Country Park (Linkfield, Shore Road and Tyninghame Links).
The 10 were chosen from a total of 13 car parks after each was evaluated according to such things as road safety, traffic and visitor management, the impact on the environment and on the local economy and tourism. Based on this, it was decided that Aberlady Bay Local Nature Reserve, Skateraw and Thorntonloch car parks would remain free of charge.
For more information see 'Coastal Car Parking - Frequently Asked Questions' under 'Related Documents' below.
Why your views matter
This initial consultation will help to inform the development of a Traffic Regulation Order (TRO). Once this consultation is closed and feedback analysed, a report will go to East Lothian Council Cabinet and a draft TRO will be produced.
A further round of consultation will then take place in relation to the draft TRO (this will be advertised in the local press and on the Council website). All objections received will be considered and further discussion and approval will be required before a TRO is finalised.