Overview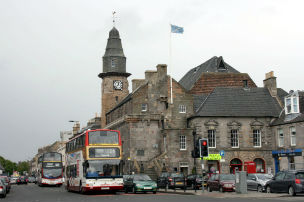 Purpose of this Consultation
East Lothian Council declared its first Air Quality Management Area (AQMA) covering High Street Musselburgh in November 2013.
A Draft Air Quality Action Plan has now been produced outlining a number of measures that we think offer the best opportunity to improve air quality in the area. We are keen to hear what people think of the proposals contained in the Draft Action Plan.
What is the Problem?
Air pollution is a widespread problem, affecting many large towns and cities in the UK. Elevated levels of air pollutants such as Nitrogen dioxide (NO2) and particulate matter (PM10) can pose a risk to human health. Studies of the effects of NO2 and PM10 on human health have linked it to various respiratory illnesses, cardiovascular disease and the aggravation of existing medical conditions, such as asthma. In Musselburgh, as in other towns and cities across the UK, road traffic is the dominant source of air pollution, while industrial, commercial, agricultural and domestic sources also contribute to the problem.
Air quality monitoring and modelling work undertaken by the Council has confirmed that air quality on High Street, Musselburgh has failed to meet the Scottish Government health-based Annual Mean Air Quality Objective for NO2. As a consequence, the Council has been working to reduce levels of NO2 to meet the Objective, which is acknowledged in the Draft Action Plan. Indeed, the most recent Air Quality Progress Report for 2016 indicates that there were no exceedences of the NO2 Annual Mean Objective during 2015; with a downward trend in NO2 concentrations over the last 5 years. However, the Action Plan outlines the measures the Council intend to take to reduce levels of NO2 to as low as possible and demonstrates our ongoing commitment to improving Air Quality throughout the county.
You can share your views on our Draft Air Quality Action Plan by completing our online consultation survey below.
Alternatively, you can email comments to aqapconsultation@eastlothian.gov.uk or send written comments to Colin Clark, Environmental Health, East Lothian Council, John Muir House, Haddington, EH41 3HA.
Responses should be received by Friday the 16th December 2016.